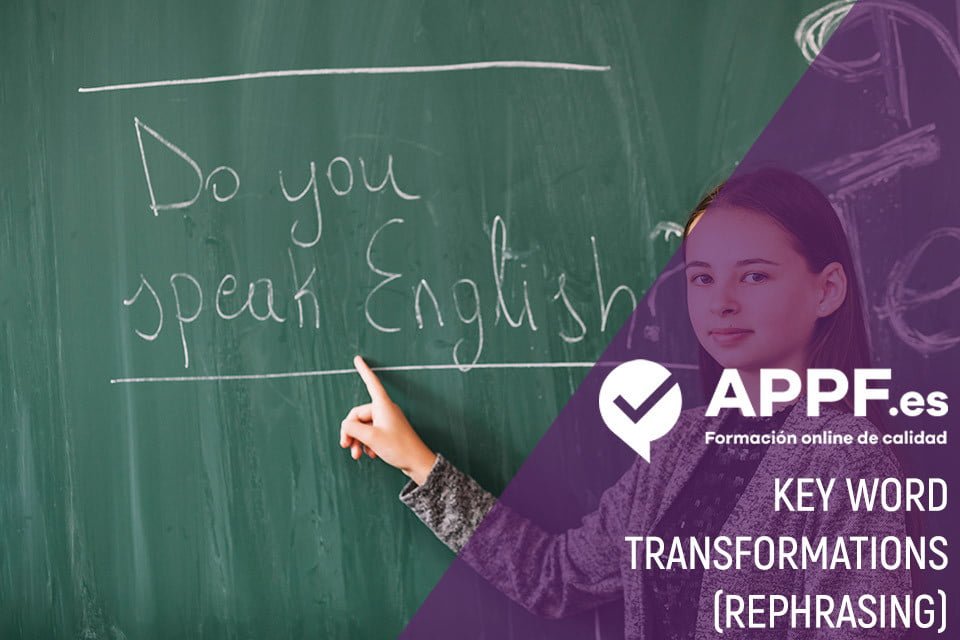 Key Word transformations or as they are probably better known, "rephrasing" are an essential part of the PET (B1), FCE (B2) and CAE (C1) Cambridge exams. Many students find them frustrating as they might not understand how they work. Here is a step by step guide to how to do them.
Key Word transformations are an essential part of the Cambridge exams
To rephrase a sentence means literally, to say the same thing in different words. This is an essential skill in becoming fluent in a language as often we are required to explain ourselves in detail, using various ways of giving similar information. They can be learnt with several steps:
Step one: improve your vocabulary. You must relate phrasal verbs to synonyms (take up = start doing) or fixed expressions (be just about to = be at/on the point of). To make this easier, we have included a FREE PDF with key fixed expressions.
Learn to recognize grammar structures: passive, relative clauses, reported speech, quantifiers, connectors, tense changes, gerund versus infinitive, modal verbs, inversions (rarely), conditionals etc.
PRACTICE THEM REGULARLY!
Key Word transformations
In this part of the exam you have six sentences to complete. You need to read the first sentence in each question. From this you need to look at the second sentence and think about what information is missing. You must then complete the second sentence so that it has the same meaning as the first with 2-5 words (NO MORE).
Another thing to understand is that you are provided with a word that you must use in exactly the same form (if it is TOLD, you cannot use tell, telling or any variation of the word. ONLY TOLD). Each of the questions is worth 2 points and the points are based on lexical (vocabulary) or structural (grammatical) points. What they assess in this part of the exam are as follows:
Try the Deleting Technique. You take the sentence transformation, for example:
You´ll get lost no matter who you go with
REGARDLESS      You´ll get lost ________ who you go with
YOU MUST CONSIDER WHAT IS THE SAME IN BOTH SENTENCES AND THEN DELETE WHAT IS THE SAME IN THE FIRST SENTENCE
You´ll get lost no matter who you go with
REGARDLESS      You´ll get lost ________ who you go with
YOU ARE LEFT WITH NO MATTER AND ALL YOU NEED TO DO IS THINK OF THE SYNONYM FOR IT.
Answer: regardless of
Follow up activity: You should write down the answers and the common vocabulary. These are almost always synonyms. Write them in a list like…
Be willing = be up for
Put up with = tolerate
On purpose = intentionally
So that = in order
As long as = provided that
Here are some examples of FCE sentence transformations:
I am learning English so that I can finish my degree by May of this year.
ORDER
I am learning English ____________________ my degree by May this year.
We are not allowed to go to the party because we are grounded
LET
Our parents won´t _____________________ to the party as a punishment.
The teacher says it is a good idea to study the course material using an online course.
RECOMMENDS
The teacher _______________________________to study the course material.
I don´t mind working hard, as long as I get paid for it.
PROVIDING
Working hard doesn´t matter to me, _____________________payment for it.
John is excited about driving his new car.
FORWARD
John _________________________ his new car.
In the case of an emergency, read and follow the instructions beforehand.
JUST
Read and follow the instructions __________________ is an emergency.